Making Tracks
July 2023
1918 Norfolk Southern Munden Point mail train
Welcome to Making Tracks, the official newsletter of the Model Railroad Museum of Hampton Roads. Thank you for subscribing. This will provide you with the newest updates, offers, discounts, lots of information about model railroading, railroad history, stories, and educational articles.
President's Column
Museum President's Monthly Article:
Welcome to the fourth installment in the series of seven articles explaining how and why the Model Railroad Museum of Hampton Roads was created and its long range objective.

How do we plan to achieve our purpose and mission?
It my last article I discussed the lead up to creating the Museum's purpose and mission statement. Now let's discuss the Museum's plan to achieve our long range objective.
Basic Design: The Museum's long rang objective will require an estimated 68,000 sq. ft. or greater space containing no less than eight (long range goal is for up to 15 layouts) well-maintained fully functional model railroad layouts built and operated by currently established volunteer groups of model railroaders. Space will be provided for displaying railroad-related artifacts, teaching rooms for talks on various topics related to railroads and modeling railroads, a library containing computers and multiple books and documents that can be used for research, a media room constantly showing theme-related videos, and a small gift shop selling T-shirts, mugs, train sets, etc.
Organizational Overview: The Museum will be a "not for profit" educational organization. To achieve this end, the Model Railroad Museum of Hampton Roads must conceive, develop and implement programs, operating exhibits, and static displays to foster the hobby of model railroads and promote the welfare, mutual understanding and public awareness of model railroading by those actively engaged in the model railroad hobby. This is a multi-phase plan to incorporate and display G, O, S, HO, N, Z model railroad scales over many years, including a wooden layout for young children to play. Plus Youth in Model Railroading or Teens in Model Railroaders and Women Model Railroaders will have a layout in their own scale of choice to display.  Additionally, we specifically will utilize the STEAM knowledge to forge a program whereby youth will build four layouts through a four phase program to instill converting their knowledge into works of art for public display. We are in discussion with the local Hampton Roads LEGO User Group (HARDLUG) and Kids Run Trains, who have shown interest in joining this project. They may also operate train displays and be able to hold contests, on-hands training sessions and meetings throughout the year. Should outdoor space be available with the new facility, it may be possible to include a scale 1 train layout (7 ½" -wide track). An attraction of this scale will permit guests to ride a train for a small fee. Available space will determine the physical size of the layout and how much to charge for longer rides. If facility space is available, we will enhance the museum and community service by holding train shows, swap meetings and white elephant sales at least twice a year and educational hands-on clinics twice a month. Model Railroad Museum of Hampton Roads would open every Wednesday for FREE public school field trips to inform youth about the museum and educational benefits through STEAM Program.
Objectives:
·       Provide a model railroading experience that educates, inspires, and brings joy to all ages.
·       To share and expand the model railroading experience as an avenue for human creativity.
·       Establish a base of regular visitors.
·       Partner with organizations that support the mission.
·       Construct operating layouts for displays and demonstrations.
·       Develop exhibits and programs that will attract diverse groups from Tidewater area, including local residents and tourists.
·       Attain fiscal stability.
Path to Success:
·       Support the teaching and learning of model railroad history.
·       Provide an advanced technical interactive experience that enhances learning by using Science, Technology, Engineering, Art and Mathematics (STEAM) through youth constructing layouts from scratch.
·       Establish the Model Railroad of Hampton Roads as an indispensable resource regarding railroad history in and around Tidewater.
·       Enhance our guests' experience in model railroading with multi-scale layout displays.
·       Implement a traveling exhibit that would be available at different locations on specified dates. Many museums do this to raise funds and to increase public awareness of their museum. It would brand itself as a unique niche within the Hampton Roads museum market.
·       Partnership with local, state and national organizations to foster enhancements to the Museum to maintain a fresh museum for visitors to enjoy for many years.
Stay tuned for more information on our progress in the next newsletter.  One important note is that we can't do this without community support.  If you are interested and wish to provide support for a new Model Railroad Museum in the Hampton Roads, a place where you and your family could visit regularly to view and run trains and marvel the craftsmanship and art of the 3-D landscaping, to learn about model railroading and the history of trains in this area, please consider a tax deductible donation.  Every dollar helps the Museum achieve its goal to locate a facility to rent or purchase!
Fred Humphrey, President
---
What Are Our Goals?

By Warren Leister
To expose people to the most efficient and economical mode of mass transportation in existence, the modern railroad industry, and also to highlight the history of railroading in general, and also specifically to share, protect, and preserve the rich railroad history of Hampton Roads and the commonwealth of Virginia which is second to none in the United States.
To introduce model railroading to the general public as not only a potentially exciting and fulfilling lifelong hobby, but also as a valuable educational venue for children using STEM/STEAM concepts to aid them in: developing the capacity to take thoughtful risks, engaging in experimental learning, persistence in problem solving, embracing collaboration with team building, and experiencing creative building processes. STEAM uses Science, Technology, Engineering, the Arts, and Mathematics as access points for guiding students in learning, inquiry and exploration.
Demonstrate and teach the following skills and technologies: carpentry, art, model design/construction, electricity, researching/documenting history through records/artifacts, computer driven railroad/transportation simulator apps, and electronics through clinics, courses and other multi-media including videos as a community service.

To create a highly unique and successful tourist exhibit and experience that we hope will someday operate at a national level. 
---
Traveling Exhibit
We are currently making plans to provide a traveling exhibit as one of our first services to the community. This exhibit will contain layouts of multiple scales (O, HO, N, Z) including modules of the popular HO scale train displays that can be connected together to form a large layout wherever it is requested. It could be at a church, a country club, library, museum, nursing facility - anywhere that has the space and the desire for it. These will be fully functioning model railroads, some of which will be ready for operation by visitors.
In addition, we will be offering another service around the Holidays of setting up Christmas train displays, including trains around trees, trains for parties, conventions or for any other venue.
Prices are very reasonable are very negotiable depending on the situation.
Please send an email for more details... secretary@mrmhr.org
---
Local Railroad History

By Pat Mahoney, Vice President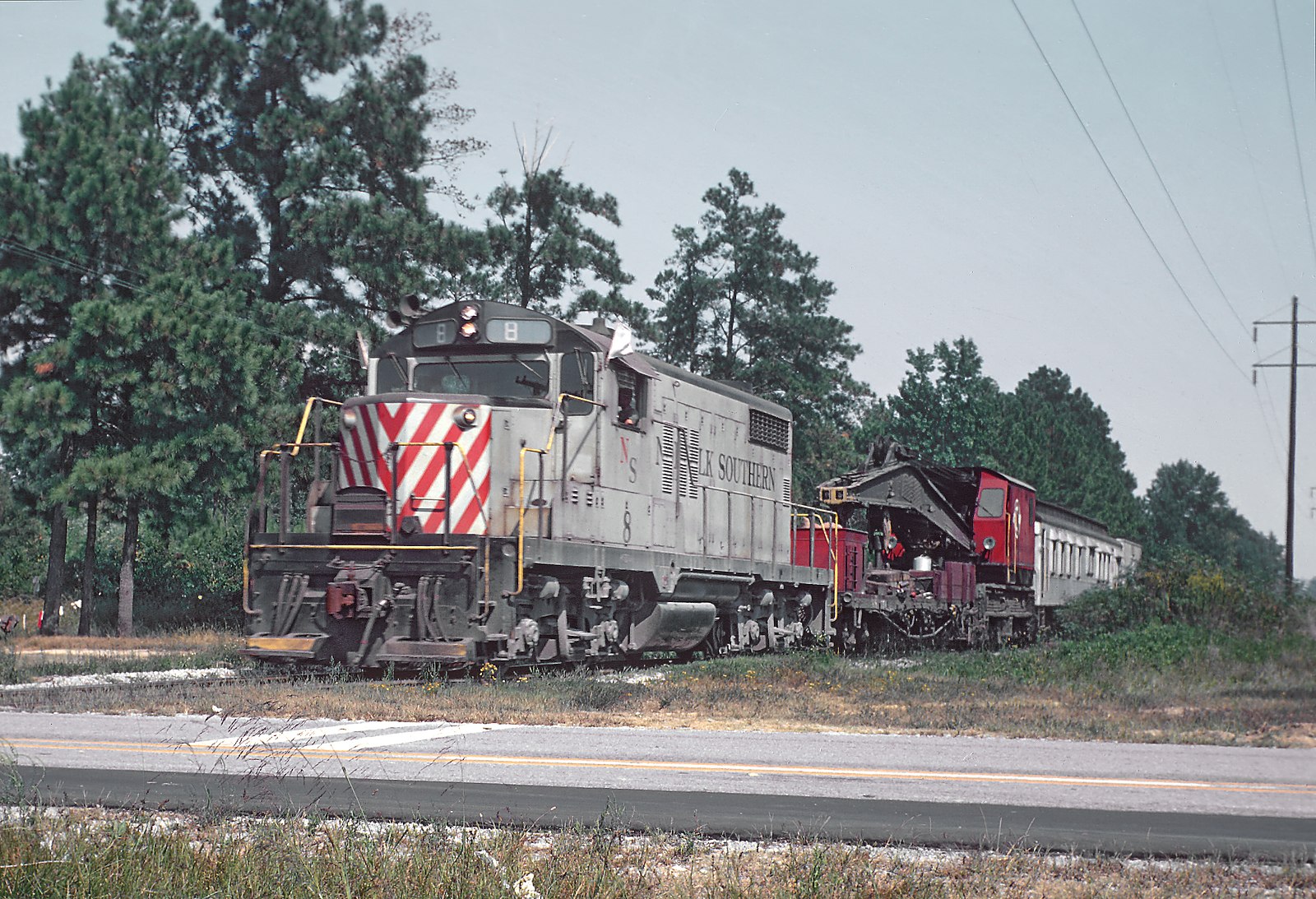 Photo from the Roger Puta Collection -Public Domain - (Marty Bernard, Set 72157659885720328, ID 26553381985, Original title NS GP18 8 west of Mackeys, NC in October, 1968)
Most people don't realize the extent of our rich railroad history in this area. Here is a brief summary by one of our Museum founders. [-Ed.]
The Elizabeth City and Norfolk Railroad was established January 20, 1870, and in 1881 the line opened, running south from Berkley, Virginia, across the Eastern Branch of the Elizabeth River from Norfolk, via Elizabeth City to Edenton, North Carolina. On February 1, 1883, the name was changed to the Norfolk Southern Railroad ("NSRR"), reflecting the company's ambitions to build further. It entered receivership for the first time in 1889, and was purchased April 29 and reorganized May 1891 as the Norfolk and Southern Railroad. By that time, it had acquired trackage rights over the Norfolk and Western Railroad over the Elizabeth River into Norfolk. With the reorganization also came the acquisition of the Albemarle and Pantego Railroad in North Carolina from the John L. Roper Lumber Company, extending the line from Mackeys on the other side of the Albemarle Sound from Edenton south to Belhaven on the Pungo River, a branch of the Pamlico River.

On November 1, 1899, the N&S bought the Norfolk, Virginia Beach and Southern Railroad, running east from Norfolk to Virginia Beach on the Atlantic Ocean. An extension parallel to the oceanfront took the line north from Virginia Beach to Cape Henry in 1902, but two years later the N&S bought the competing Chesapeake Transit Company which had a line from Norfolk to Cape Henry via the Lynnhaven Inlet area and hence to Virginia Beach, and abandoned its duplicative trackage between Cape Henry and Virginia Beach. The importance of passenger rail service to the Oceanfront area to Virginia Beach's resort growth in the late 19th and early 20th century was eclipsed only in 1922 by the construction of the paved Virginia Beach Boulevard roadway between the Oceanfront area and Norfolk.
Also in 1902, the N&S acquired the Roanoke Railroad and Lumber Company's Washington and Plymouth Railroad, running from Plymouth, North Carolina, south to Washington, built a line from Mackeys to Plymouth, and began a car ferry operation across the Albemarle Sound between Edenton and Mackeys (replaced by a 5 mile bridge in 1910). The W&P had been built by the lumber company in 1889 to 3 ft (914 mm) narrow gauge, became a common carrier in 1901, and was converted to 4 ft 8+1⁄2 in (1,435 mm) standard gauge by the N&S in 1904.
The Raleigh and Eastern North Carolina Railroad was organized in 1903 and renamed the Raleigh and Pamlico Sound Railroad in 1905. In 1906, it built a line from the end of the N&S at Washington south to Bridgeton, as well as a completely separated line from Raleigh east to Zebulon.
On November 24, 1906, the Norfolk and Southern Railway was formed as a consolidation of the Norfolk and Southern Railroad with the Raleigh and Pamlico Sound Railroad and several other companies:
·       Virginia and Carolina Coast Railroad: built 1885 to 1902 from Suffolk, Virginia south to Edenton and from Beckford Junction (on the Suffolk-Edenton section) to Elizabeth City; originally built as the Suffolk and Carolina Railway and renamed in 1906).
·       Pamlico, Oriental and Western Railway: built 1906 from New Bern (across the Neuse River from Bridgeton) east to Bayboro, including a bridge over the Neuse River that became part of the main line.
·       Atlantic and North Carolina Railroad (leased September 1, 1904): built 1858 from Goldsboro southeast to Morehead City, intersecting the main line at New Bern.
·       Beaufort and Western Railroad: built 1905 from Morehead City east to Beaufort.
The company again entered receivership in 1908, and in a 1910 reorganization returned to the 1883 name: Norfolk Southern Railroad. That same year it built a long branch from Chocowinity (also known as Marsden) on the main line south of Washington west to the isolated section to Raleigh at Zebulon (that became the main line to Charlotte via Raleigh, while the old line to New Bern became a branch). Several shorter branches also opened that year - from Bayboro south to Oriental, from Pinetown on the main line east to Bishops Cross on the line to Belhaven, and from Mackeys east to Columbia (as well as a trestle across the Albemarle Sound between Mackeys and Edenton).
The Egypt Railroad was chartered June 14, 1890, and opened October 15, 1891, running a short distance from Colon on the Seaboard Air Line Railroad main line west to Cumnock. It was leased to the Raleigh and Western Railway, another short line continuing west from Cumnock to Harpers Crossroads, on September 6, 1893. The company entered receivership in 1907 and operations west of Cumnock were suspended in 1908. The Egypt Railroad was reorganized April 1, 1910, as the Sanford and Troy Railroad.
The Durham and Charlotte Railroad was chartered March 2, 1893, and planned to connect the two cities named with the railroad. On July 15, 1896, it bought the Glendon and Gulf Railroad, running from Gulf (west of Cumnock) southwest to Glendon. After reaching Elise (Robbins) in 1899, the Durham and Charlotte Railroad was building towards Star. The company endured several years of litigation over the right-of-way with a Wright Tramway, which was built in 1896. The tramway was removed in 1901 and the Durham and Charlotte Railroad was then built to Star by 1902. Some time after 1900 it bought the former Raleigh and Western Railway right-of-way and rebuilt the line from Cumnock to Gulf, and built an extension from Star southwest to Troy.
In November 1911, the NSRR formed the Raleigh, Charlotte and Southern Railway (RC&S) as a consolidation of several smaller companies; the RC&S was merged into the NSR in fall 1912. The RC&S was made up of the Sanford and Troy Railroad, Durham and Charlotte Railroad, and the following lines:
·       Raleigh and Southport Railway: Raleigh south to Fayetteville.
·       Aberdeen and Asheboro Railroad: Aberdeen northwest to Asheboro, with a branch from Biscoe west via Troy to Mount Gilead, and several other short branches.
At the time, only the Raleigh and Southport Railway connected to the other NSRR lines. In 1914 the NSRR built a line from Varina on the former R&S southwest to Colon and from Mount Gilead west to Charlotte, giving it a continuous line, using the former S&T, D&C and branch of the A&A from Colon to Mount Gilead.
On May 27, 1920, the NSRR leased the Durham and South Carolina Railroad, giving it access to Durham. The D&SC ran from Durham south to Bonsal on the Seaboard Air Line Railroad, and had been extended to Duncan on the NSRR around the time the Norfolk Southern Railroad leased it.
A Norfolk Southern work train west of Mackeys, North Carolina in 1968.
Another receivership came in 1932, and in 1935 it defaulted on its lease of the Atlantic and North Carolina Railroad, which was reincorporated November 16 of that year. Many branch lines were abandoned or sold during that period, such as the local lines in Suffolk, Virginia, which were sold to the Virginian Railway in 1940. On January 21, 1942, the company was reorganized for the last time as the Norfolk Southern Railway. In 1954, the railroad retired its last steam locomotive from revenue service.
On January 1, 1974, the Southern Railway bought the Norfolk Southern Railroad and merged it into the Carolina and Northwestern Railway, but kept the Norfolk Southern Railway name. In 1982 the Carolina and Northwestern name was brought back to free up the Norfolk Southern name for the planned merger of the Southern Railway with the Norfolk and Western Railway. The new Norfolk Southern Railway was formed in 1982. While the name had once represented simply the Virginia and North Carolina based railroad which ran south from Norfolk to Charlotte, it was now a combination of the names of the two merged Class I railroads.
Norfolk Southern still owns the main line from Gulf (near Cumnock) northeast to Raleigh. The part from Gulf west to Charlotte (as well as the branch to Aberdeen) is now the Aberdeen, Carolina and Western Railway, the part from Edenton north to Norfolk is now the Chesapeake and Albemarle Railroad, and the Belhaven-Pinetown branch as well as the Plymouth-Raleigh segment is now operated by the Carolina Coastal Railway. The line between Plymouth and Edenton has been removed,[1] with the famous Albemarle Sound Trestle having been demolished in the late 1980s.
---
How to Build Your Own Model Railroad
There are lots of resources out there that can provide information about model railroading. One of the most comprehensive websites that explains all the basics and more about getting started in the hobby is at www.building-your-model-railroad.com. The information presented there is entirely free, and is arguably one of the most complete step-by-step tutorials you can find on how to build your own model railroad. 
(-Sponsored)
---
Welcome!
We gratefully welcome our newest volunteer Board members:
Greg Leiphart - Director of Education
Warren Leister - Railroad Historian
With their help, we can expand our services, sharpen our educational goals, and continue to move forward in our progress to provide a unique service to the community through model railroading.
Other References:
If you wish to become more engaged as a model railroader, consider joining the NMRA.org, the main website of the National Model Railroad Association. All of the standards for model railroading are provided here along with tons of educational material and resources. Our Museum is not affiliated with the NMRA, but I mention it here because it is such a good reference, and provides a path to excellence for model railroaders. Many of us at the Museum are members, but you do not have to be a member of the NMRA to be a member of the Museum.
---
---
Thank you so much for reading our newsletter! We truly appreciate your interest and support. Please let us know if you would like more information.
Greg Warth, secretary@mrmhr.org
757-816-8399
Please click on the yellow "Donate Button" below.
Be assured that your information is safe and will never be used for any purpose other than communication with you about the Model Railroad Museum of Hampton Roads.
Get Updates and Special Offers in 
the MRMHR Newsletter:
Making Tracks 
Sign Up Here...
The official newsletter for the Model Railroad Museum of Hampton Roads