Model Railroad Museum of Hampton Roads: Donations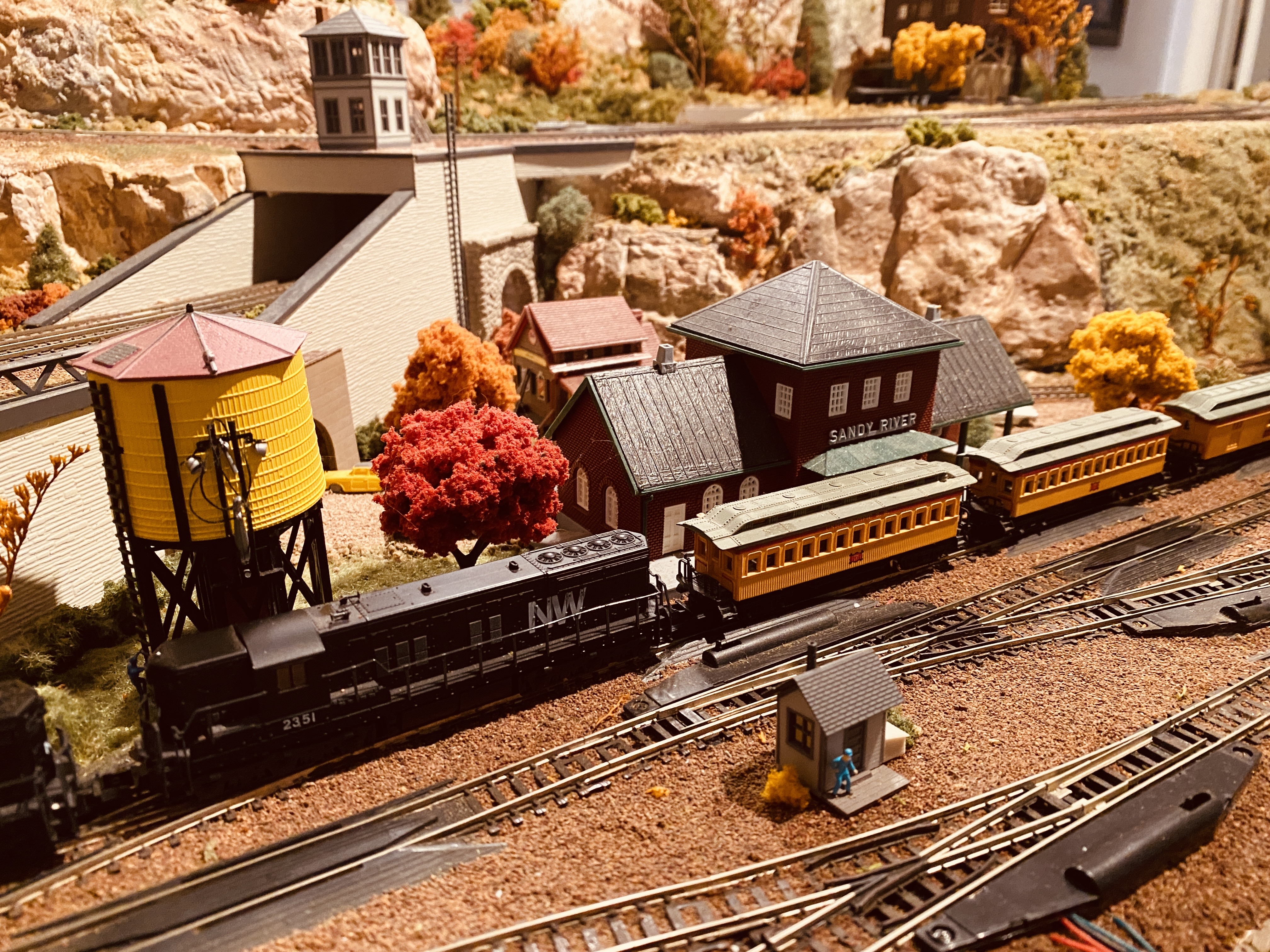 As a registered 501(c)(3) organization, the Model Railroad Museum of Hampton Roads is able to accept tax-deductible donations, which will be the life-blood of the organization. We will require the support of the community to stay alive.
What kind of Donations Are Accepted?
Answer: Almost anything you can think of that a community building and a model railroad would need. Here are some suggestions...
Chairs and Benches
Electrical equipment
Wood for walls and benchwork
Any and all model railroad equipment in all gauges
Any railroad artifacts or antiques
Railroad Books, DVDs for the Library
Working computers and video equipment.
Monetary Donations
Any donation that you provide will be acknowledged in writing in our Book of Donations on public display in the Museum.
Donations will be categorized in three ways:
As a Gift to the Museum to be either used in the Museum or be sold for its monetary benefit to the Museum, or
As a Donor (less than $1000) or a Major Donor (greater than $1000) to the Museum for a one time donation.
As a Patron or Sponsor of the Museum to provide monthly donations for ongoing support.
Monetary Donations
Monetary Donations can be a one time gift, or can be a monthly or yearly donation withdrawn from your PayPal account or checking account. They are not refundable after 30 days. As mentioned above, you will receive written acknowledgement within 30 days by email or regular mail, which you may use as a charitable tax deduction when filing your income taxes. 

100% of our fees, ticket sales, donations and all other revenue goes back into paying expenses directly related to the Museum, creating the layouts, building and operating the museum. There are no administrative fees. There will be full transparency regarding our income, expenses and budget which will be published on this site.
So, if you are a a train lover of any kind, if you are at all interested in model trains, real trains, or artful 3-dimensional landscaping displays through which trains are operated, and would like to see a high quality model railroad museum in the South Hampton Roads area that you can be proud of, that you and your family could enjoy and really learn something about science, mathematics, technology, engineering, architecture, and art, click on the link below this text and provide a monetary donation, for which we will be eternally grateful and for which you will receive a receipt and recognition. Of course, there is no obligation to do so, but it is an opportunity for you to give something to your community that will be appreciated by many for years to come.
These 100% tax-deductible collections will go directly toward building or developing a location for the Museum. We will continue to keep you posted on our progress. You can be proud that you helped to build it in the early years.
Donations
As a totally non-profit 501(c)3 organization, we really need the support of the community to make this work. Our largest expense is leasing or purchasing a building large enough to accommodate the Museum. Please consider the fun and family entertainment of having a Museum like this in our community, not to mention the educational benefits. With all the difficulties we all face in the world every day, we need fun things to do. We owe it to ourselves to develop these opportunities especially for our children, who will remember these experiences forever. 
Donate with ZEFFY
(No credit card fees!)
Or, Donate with PayPal !
Monthly Donations


for Ongoing Support and Extra Benefits

Become a supporting Patron with ongoing monthly donations that will entitle you to multiple extra benefits and discounts. Once your donations reach $1500, you get Lifetime Membership.

These donations are 100% tax deductible and will be used for building and construction of layouts and for expenses related to the maintenance, lease, and operation of the museum. There are no administrative costs since we are all volunteers. Click on the following link to learn more...
---
Major Donations (Rail Barons)
You also have an opportunity to to provide above-and-beyond support for the Model Railroad Museum of Hampton Roads by choosing one of the following:
Benefactor Donation - $1000 - includes special recognition and appreciation dinner. Two years in a row gives you Lifetime Membership.
Vanderbilt Donation - $2500 - includes special recognition and appreciation dinner for up to 4 people, and an appreciation plaque in the museum. Includes Lifetime Membership.
Rockefeller Donation - $7500 - includes special recognition and appreciation dinner for up to 6 people and a special recognition plaque to be put up in the museum. Also includes a complimentary Lifetime Membership.
Donor Information
If you have provided a donation, we thank you for your support and would like to honor you as one of the founding members of the Museum. Please fill out the form below so that you can be recognized as such on this site and at the Museum.